Study in the heart of Montreal
ESMA Montreal welcomes students at ExCentris, a legendary building located on St Laurent Boulevard. The school is near the entertainment district and in the middle of multiple festivals such as Mural Festival, Montréal Cirque Festival, etc.
ExCentris is a modern film complex created in 1999 by Daniel Langlois, founder of Softimage. Long dedicated to repertory cinema, ExCentris has supported several independent producers and creators. Entering this place will leave no one indifferent.  The ample space, materials and technical know-how within, provide an unparalleled learning and living environment.
From its creation, ExCentris has made the flexibility of its premises a priority. The Fellini movie theater – easily convertible into a studio or a showroom – is an incredible example of its versatility.
ESMA Montreal followed the same path in organizing the premises, making ExCentris a complex dedicated exclusively to teaching artistic crafts. ESMA shares these premises with Collège Salette, a Design and illustration institution, and Collège Marsan, a photography school.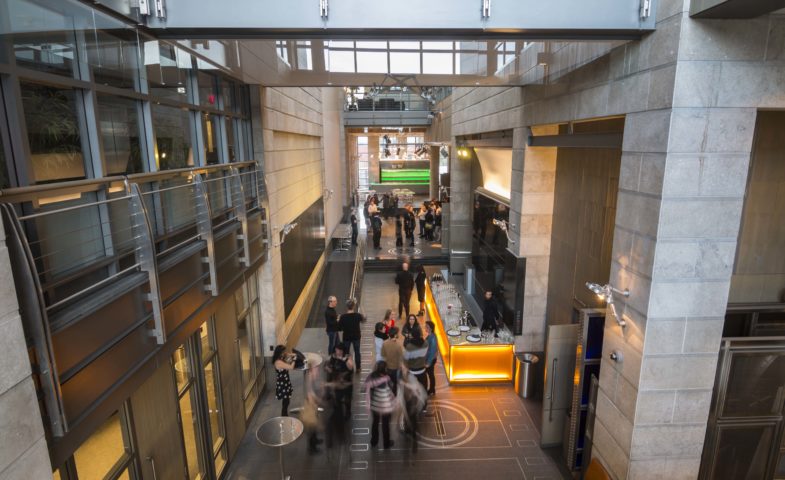 Contact Details
ESMA MONTRÉAL
3536 BOULEVARD SAINT-LAURENT
MONTREAL (Québec) H2X 2V1
+1 514 388-5725
info@esma-montreal.com
Access
MÉTRO
Arrêt Saint-Laurent
Arrêt Sherbrooke
BUS
Arrêt "Saint-Laurent / Sherbrooke" des bus 55 et 363.
An exceptional learning environment
Within over 32,000 sq. ft., ExCentris offers students:
– 2 cinemas/amphitheaters
– 6 traditional modular classrooms
– 6 computer labs equipped with Mac and PC, networked
– 8 modular film sets